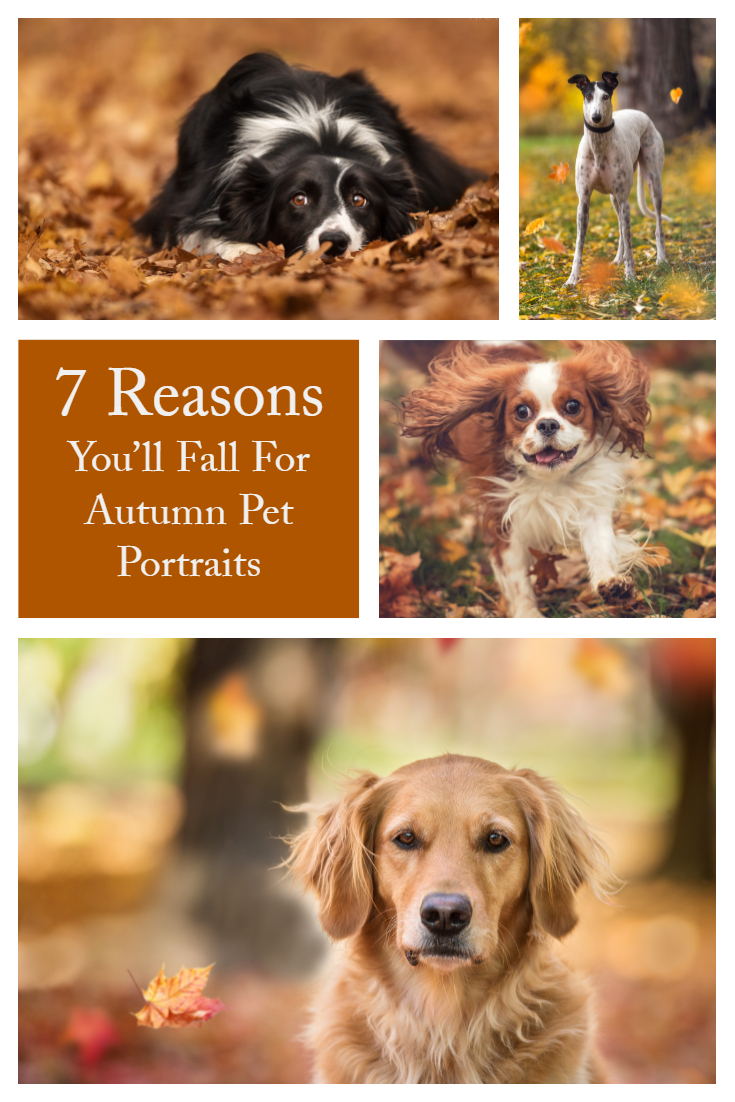 is hands down my favourite time to photograph pets outdoors. The changing leaves are a gimme, but some of the other reasons may surprise you.
The colours - Hello, Captain Obvious! The changing leaves make Fall arguably the most photogenic time of year (at least here in the Northern Hemisphere). Dog breeds with red and gold coats look gorgeous against the reds, oranges and yellows of the trees. Black and white pets pop with contrast against the colourful backdrop. Even overcast days have a warm and cozy glow.

Clear skies, less haze - Cooler temperatures do away with the hazy skies of summer, leading to more crisp blue skies that contrast strikingly with the warm tones of the leaves.

Speaking of the cooler temperatures, they are ideal for the comfort of your pet! This is the perfect time to capture action shots, without fear of overheating. Less panting and drooling makes for more photogenic pooches.

Beaches and parks are deserted - Especially if you live in a touristy area (as I do, on the Bay of Fundy south of Moncton, NB), beaches parks and trails can be crowded and full of distractions during the summer months. Once the kids are back in school, these outdoor spaces become way less crowded, especially during mid-week.

Fewer bugs - Springtime holds many of the same advantages of autumn. Cooler temperatures, clearer air, plus flowers and blossoms. You know what else Spring has? Blackflies. And Mosquitos. By autumn, the worst of the biting insects have usually passed, creating a much more enjoyable outdoor experience for pets, families, AND photographers. Win, win, win.

Earlier sunsets, later sunrises - Capturing that beautiful magic hour light around sunrise and sunset makes for some extremely early mornings and late evenings during the summer months. By the time autumn rolls around, we can get up at much more civilized hours or get lovely light before dinnertime.

It's the perfect time to start thinking of holiday gifts and cards - Prints for family members and fans, or perhaps a holiday gift for yourself. What better way to spoil yourself and show your over the top love for your furry friends than by preserving their images in gorgeous, timeless, heirloom portraits?